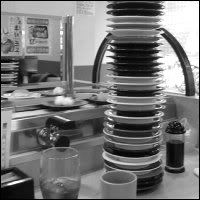 I am impressed by individuals who do amazing things: A waitress carrying four full plates on her arm; a virtuoso musician who plays with speed and grace; or athletes like Michael Jordan or Tiger Woods whose consistent excellence marks them as someone special.

As a writer and a performer, I am always hoping for a little magic in my pocket. I want to create a spark that passes from me to someone in my audience. Those sparks are devious creatures. Often the people who make them can't see them until they are reflected.

I'm playing tonight. Wish me luck.