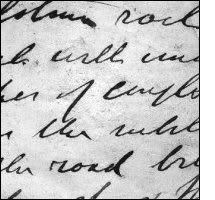 A palimpsest is a document that has been erased and has had a new message written on it. Close examination may reveal some of the original text. The practice harks back to the days when paper and parchment were precious. If the writer regretted or no longer needed the first text, the surface was scraped and used again.

The message changes but the messenger stays the same. We wrap ourselves in new ideas, though the old ones may show through.

It's never to soon to mess up your life; but it's never too late to make yourself a palimpsest.