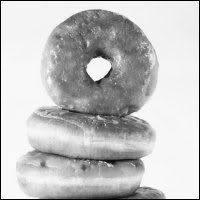 Nobody needs a donut. Nutritionally empty, it's about as healthy as getting hit in the head with a stick. It is sweet fluff wrapped around nothing. A donut is a ring made of sugar not brass, grasped by those who want a quick reward. While it almost never fails to satisfy, the satisfaction is fleeting.

Don't mistake me – I am not a member of the Down With Donuts party. Far from it. But we choose best when we choose wisely, knowing a thing for what it is.

So I choose knowledge, and pastry in moderation. Or sometimes the reverse.