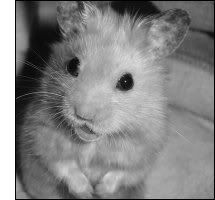 Panda was a grey-and-white teddy bear hamster with dark eyes and twitching whiskers. I never expected to love a rodent, but he was a special case.

What Panda wanted most was out. He would spend hours trying to climb up and force the lid of his cage. His out-of-prison visits with us only intensified his desire.

Panda finally got his wish. We found him on the floor next to the dogs' beds. We'll never know what killed him: the five-foot fall from his cage, or the urgent instincts of our other pets.

Beware of getting what you always wanted.